On May 10, under the recommendation of the Ethiopian Embassy in China, South China Agricultural University(SCAU) and Debre Tabor University of Ethiopia held the first video meeting with the topic of establishing inter-university agricultural education and technology cooperation between the both universities. Teshome Toga, Ethiopian Ambassador to China, and Qiu Rongliang, Vice President of SCAU, attended and gave a presentation.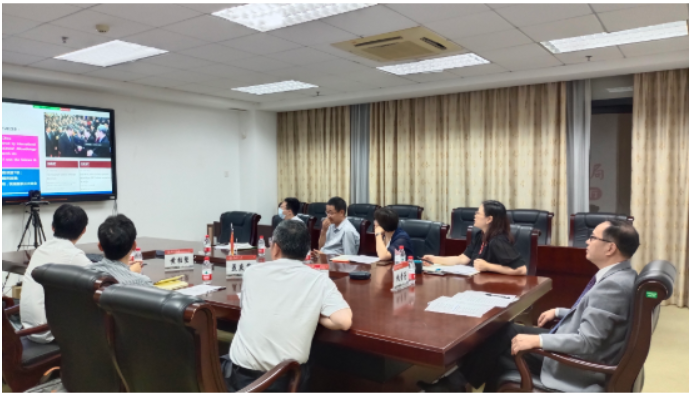 Teshome Toga said China and Egypt have established long-term friendly and cooperative relations, and Ethiopia has actively participated in the "Belt and Road" cooperation, carried out in the fields of commerce, investment, tourism, infrastructure construction, diplomacy, and cultural exchanges.
SCAU has significant advantages and characteristics in the field of agricultural education technology. It is hoped that both sides can dig into common interests and share academic research results. The Ethiopian Embassy in China will strongly support the inter-university exchanges and cooperation between the both universities.
Qiu introduced the characteristics and advantageous disciplines of SCAU, especially international student education and international agricultural training programs. Qiu expressed that SCAU is willing to carry out agricultural technology and cultural exchanges with Ethiopia, dispatch agricultural experts and scholars to Ethiopia to set up a group of Sino-African modern agricultural technology exchange demonstration and training joint centers, assist in the implementation of "Nine Projects" related projects, and promote cooperation with Ethiopia in the fields of talent training, cultural exchanges, agricultural technology training, international scientific research cooperation, and the construction of modern agricultural technology demonstration areas.

Yuan Juhua, Deputy Director of the International Exchange Office, introduced the cooperation between SCAU and African countries. Abraham Melkite, Director of the International Exchange Office of Debre Tabor University, gave a brief introduction to the university and a report on the idea of cooperation with SCAU. Afterwards, experts and professors exchanged views on talent training, teacher-student exchanges, and scientific research cooperation, and reached a preliminary consensus. Both sides plan to carry out cooperation in the fields of crop breeding, environmental protection, animal science, food safety and nutrition, agricultural mechanization and smart agriculture. The both will discuss the details of cooperation and sign an inter-university cooperation memorandum recently.
Leaders and expert representatives from the International Exchange Office, College of Agriculture, College of Animal Science, College of Resources and Environment, College of Oceanography, and College of Economics and Management also attended the meeting and gave a presentation.. (Translated by Student Assistant Xie Yingying; Photo by Student Assistant Wu Yue)